BRAD MCGUIRE'S 20-HOLE WEEKEND
Get the TIM Pass
Three hot sites specialized for fuck, suck, and solo videos
New exclusive scenes released throughout every week
New

Video Vault

scenes added daily featuring full fuck films from our TIM DVD LIBRARY
Exclusive movie releases and discounts - see it first, and own it for less
Photo Galleries with thousands of hot action shots
Mobile access lets you watch anytime, anywhere
---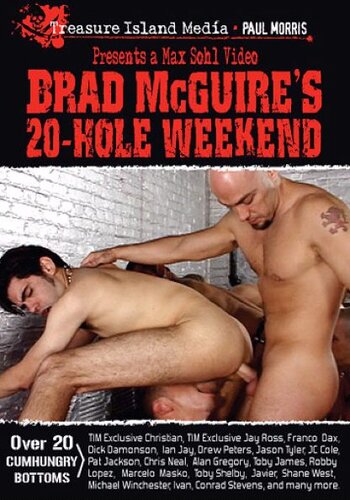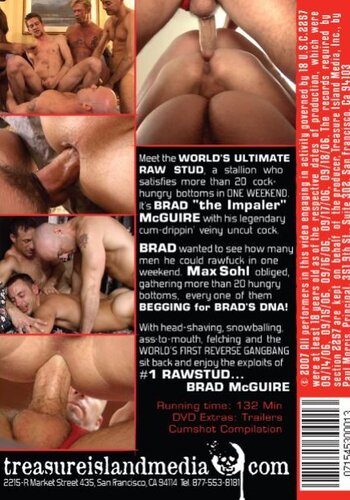 This one's about "reverse gangbangs."
Most of you know a lot of our titles feature a single cum-loving fuck hole, taking cock after cock and sucking quarts of fresh hot sperm into his sweet ass or down his gullet. Think of Treasure Island Media and probably some of our legendary bottom-sluts such as DAWSON, BILLY WILD, MIKE O'NEILL or MAX HOLDEN will pop into your head.
Sometime after DAWSON'S 20-LOAD WEEKEND was released, one of our top men asked Max Sohl a couple of questions: "Why is it that the bottoms always get to have all the fun in T.I.M. videos? Isn't it time you guys gave some really special attention to one of us tops?"
Max got the point. (Though we'd argue that our tops get plenty of fun, too.) Max had heard about "reverse gangbangs" in straight videos, where one lucky guy gets to fuck a multitude of eager beavers. But we'd never heard of such a gangbang featuring ONE STUD fucking a crowd of cock-hungry men. Hmm. A new challenge to be met.
So we called our big-dicked, uncut T.I.M. Exclusive BRAD McGUIRE and asked him what he thought. How about BRAD coming to New York to fuck 20 HOLES in one weekend? Did he like the idea of finding out just how much of a true fucking stud he really was?
BRAD reminded us that he calls himself "BRAD THE IMPALER" and told us with absolute confidence that his uncut massive veiny monster-cock would be able to tame and satisfy 20 insatiable holes. "Just don't make me stop at 20, man!"
BRAD GOT HIS WISH and BRAD McGUIRE'S 20-HOLE WEEKEND is the result. Some of the men BRAD fucked one-on-one. (As he says, "There are some asses you want your dick to savor deep!") Other guys were the group receivers during the "reverse gangbangs." All of them were left spent and content.
So here's your chance to really witness a man fuck a roomful of men, all begging for his load. There's ass-to-mouth action, double-dicking, felching, snowballing - it's all here AND MORE !
In one ball-bustin' weekend, a weekend that might've killed a lesser stud, BRAD McGUIRE proved himself the Ultimate Cocksman.
Scenes from BRAD McGUIRE'S 20-HOLE WEEKEND
Featured in BRAD McGUIRE'S 20-HOLE WEEKEND